Brian Kilmeade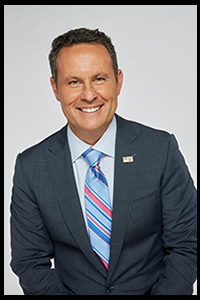 Brian Kilmeade is the co-host of Fox News Channel's FOX & Friends alongside Steve Doocy and Ainsley Earhardt. Additionally, he serves as host of The Brian Kilmeade Show, a nationally syndicated three-hour radio program on FOXNews Radio. Kilmeade joined the network as a sports reporter in 1997.
Every weekday morning, FOX & Friends provides viewers with the latest on the current headlines in news,politics and entertainment.With recent interviews including President Donald Trump and Vice President Mike Pence, FOX & Friends is on track to have the highest rated year in history.
During his tenure at FNC, he has interviewed newsmakers in politics as well as celebrities and athletes, including former President George W. Bush, former Republican presidential candidate Mitt Romney, supermodel Miranda Kerr, television personality Simon Cowell, New Orleans Saints' quarterback Drew Breesand former heavyweight champion Mike Tyson. Kilmeade has also provided live coverage and analysis on major national and international events.
Prior to joining FNC, Kilmeade was a freelance reporter and anchor for NEWSPORT TV where he anchored ScoreboardCentral. He also served as a sports anchor and director at the independent station WLIG-TV in New York, an anchor/host for KHSL-TV (CBS 12) in Ontario, CA and a radio host on The Jim Brown Show on XTRA-AM, an all-sports radio network.Kilmeade began his career as a correspondent on Channel One, a daily national high school television news program.
Kilmeade is the author of several books, "Andrew Jackson and the Miracle of New Orleans:The Battle That Shaped America's Destiny" and New York Times bestseller's"The Games Do Count: America's Best and Brightest on the Power of Sports," "It's How You Play the Game: The Powerful Sports Moments that Taught Lasting Values to Americas Finest"and "George Washington's Secret Six."
He received a B.A.in Communications from Long Island University.
Kalispell

Heavy Rain

High: 57°F | Low: 48°F

Whitefish

Heavy Rain

High: 59°F | Low: 48°F

Columbia Falls

Heavy Rain

High: 59°F | Low: 48°F

Glacier Park

Heavy Rain

High: 59°F | Low: 46°F