Rush Limbaugh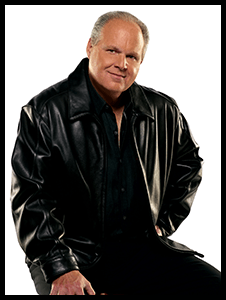 KJJR-AM is forever grateful and honored to have aired the greatest talk show host of all time, Rush Limbaugh, who passed away on February 17, 2021...
Rush Limbaugh, the "Doctor of Democracy," is known as the pioneer of AM radio. Limbaugh revolutionized the media and political landscape with his unprecedented combination of serious discussion of political, cultural and social issues along with satirical and biting humor, which parodies previously "untouchable" personalities and topics. His passion inspires millions of Americans to be the best they can be and keeps the country on course to a bright future.
On August 1, 1988, Rush launched his phenomenally successful radio broadcast, The Rush Limbaugh Show, into national syndication with 56 radio stations. Now, 30 years later, the show is heard on more than 600 stations by up to 27 million people each week and is the highest-rated national radio talk show in America. Rush was awarded the Marconi Radio Award for "Syndicated Radio Personality of the Year" by the National Association of Broadcasters in 1992, 1995, 2000, 2005, and 2014. He was inducted into the Radio Hall of Fame in 1993, the National Association of Broadcasters Hall of Fame in 1998, and the Hall of Famous Missourians in 2012.
Kalispell

Light rain

High: 57°F | Low: 43°F

Whitefish

Light rain

High: 57°F | Low: 45°F

Columbia Falls

Light rain

High: 57°F | Low: 45°F

Glacier Park

Light rain

High: 57°F | Low: 43°F